The Consulate of the Republic of Serbia in Antalya headed by Honorary Consul Mr. Fikret Ozturk was officially open on August 19, 2018 in the presence of Ministers of Foreign Affairs of the Republic of Serbia and of the Republic of Turkey H.E. Mr. Ivica Dacic and H.E. Mr. Mevlut Cavusoglu. Numerous invitees from Antalya region, Governor of Antalya, Mayor of Antalya, well known businessmen attended the event. The Consulate is situated in 7 star Regnum Karya Hotel (Kadriye Bölgesi, Üçküm tepesi Mevkii, 07500 Serik/Belek) in the near proximity of the Antalya Airport. The Consulate is open with the purpose of providing consular help and protection to Serbian citizens residing or coming a tourists in Antalya.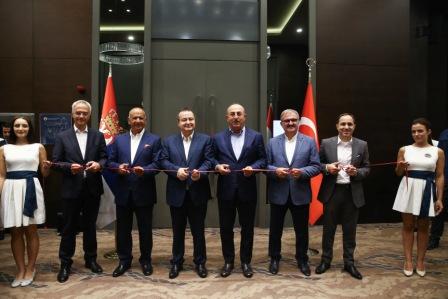 At the occasion two ministers had a bilateral meeting where the bilateral cooperation and regional issues were discussed. It was jointly stated that the bilateral relations are on a very high level to which contributed the excellent personal relations between two Presidents and which is confirmed by the frequent exchange of visits. It was repeated that the economic cooperation accordingly is in rise, that the current trade exhange is 1 bilion dolar on the annual level and that the target is actually achieving the level of 3 bilion dolar as soon as possible. The number of tourists coming from one country to another is in constant rise. At this moment about 100.000 Turkish tourists come to Serbia and 140.000 Serbian toursits comes to Turkey. These numbers are also the indicatiors of deepening of relationships, bilateral cooperation rise and mutual understanding.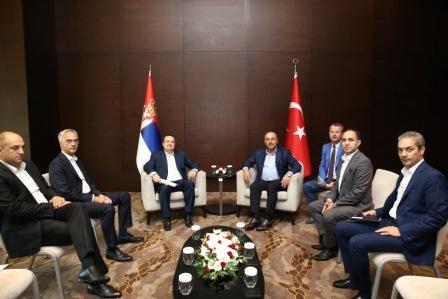 It is stated that Serbia and Turkey have a high level of congruence of attitudes on various international issued and that both countries should continue their work with joint forces on improving the positions of both countries on international level. Fight against terrorism, opening of cultural centers and investments are just some of the fields on which further cooperation can be widen. It was mutually confirmed that building these kinds of relationships as well as firendship of Serbia and Turkey should be continued as an investment in our future generations. Minister Dacic said once more that Serbia is open for all kind of aspects of cooperation and that Serbia is a reliable and sincere friend of Turkey.