7 April 2021
President of the Republic of Serbia Aleksandar Vucic received letters of credence today from the newly-appointed Ambassador of the Republic of Turkey Hami Aksoy, to whom he wished success during his tenure in Belgrade.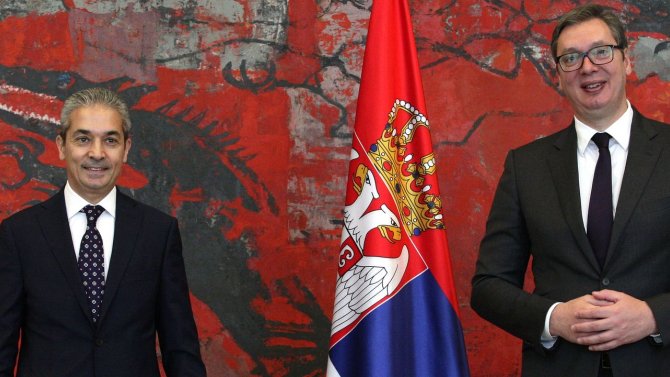 Ambassador Aksoy conveyed cordial greetings to President Vucicextended to him by President Erdoğan. Returning the greetings, President Vucic expressed great satisfaction with the high level of bilateral relations reached between Serbia and Turkey, and especially withthe intensive political dialogue as well as enhanced economic cooperation, in an atmosphere of mutual respect and trust, by which the two countries strongly supported the stability of the entire region. In this context, he welcomed the growing interest of Turkish companies to invest in the Serbian economy, especially in the less developed parts of our country.
President Vucic pointed out that he highly appreciated the personal contribution made by President Erdoğan to the arrival of Turkish investors to Serbia.
President Vucic emphasized that he hoped that the circumstances would allow holding a session of the High-Level Cooperation Council between Serbia and Turkey soon, to whose work our country attached great importance.
The two interlocutors also discussed the results of specific joint projects, underlining projects in the field of infrastructure and theirimportance.
Source: predsednik.rs
Photo: predsednik.rs / DimitrijeGoll