16 June 2022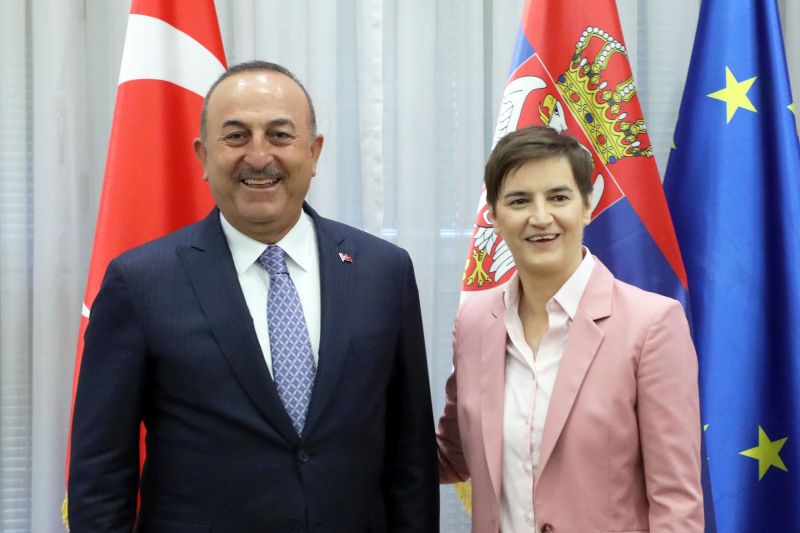 Prime Minister Ana Brnabic said today, during the talks with Turkish Minister of Foreign Affairs Mevlüt Çavuşoğlu, that the bilateral relations of the two countries are characterised by intensive political dialogue and outstanding economic cooperation, especially through investments of Turkish companies and their participation in various infrastructure projects in Serbia.
Brnabic underlined that the current level of bilateral relations between Serbia and Turkey is at the highest level and that it is important that the economic cooperation grows.
The Prime Minister expressed gratitude on the great support which the Turkish government and president give to the investors who want to invest in Serbia, especially those who invest in less developed areas of our country.
Çavuşoğlu assessed that an exceptional political dialogue between the officials of Serbia and Turkey is what adds to the quality of relations between our countries and announced that Turkish President Recep Tayyip Erdoğan will soon visit Serbia and the region.
The Minister confirmed that Turkish companies are satisfied with their business in Serbia and that they currently employ approximately 10,000 Serbian workers.
As he said, Turkish companies are also working on important projects on road infrastructure, especially when it comes to the Belgrade-Sarajevo-Belgrade highway.
Stating that Serbia is a key country for the stability of the region, he pointed out that Turkey is ready to provide all possible assistance to cooperation in the region, and the construction of road infrastructure is the basis for its further development, he explained.
The two countries have already signed agreements on cooperation in many areas, and the signing of an agreement that will enable the citizens of Serbia and Turkey to visit both countries with ID cards only will be signed soon and it will encourage the development of both economic relations and tourism.
The Prime Minister emphasised that cooperation with Turkey in the field of energy and on the construction and exploitation of "Turkish Stream", which enables the supply of gas to our country and the region, is extremely important for Serbia.
She stated that our country attaches great importance to the work of the Turkish Cooperation and Coordination Agency (TIKA) and activities related to the restoration of cultural and historical monuments in Serbia, which gives a strong impetus to strengthening ties between the two countries.