Ambassador Markovic gave an interview for the Istanbul Chamber of Commerce, which you can read on their website, where the importance of Serbia as a key country for duty-free trade with the EU was especially emphasized.
(click on the photo for the initial link of the article)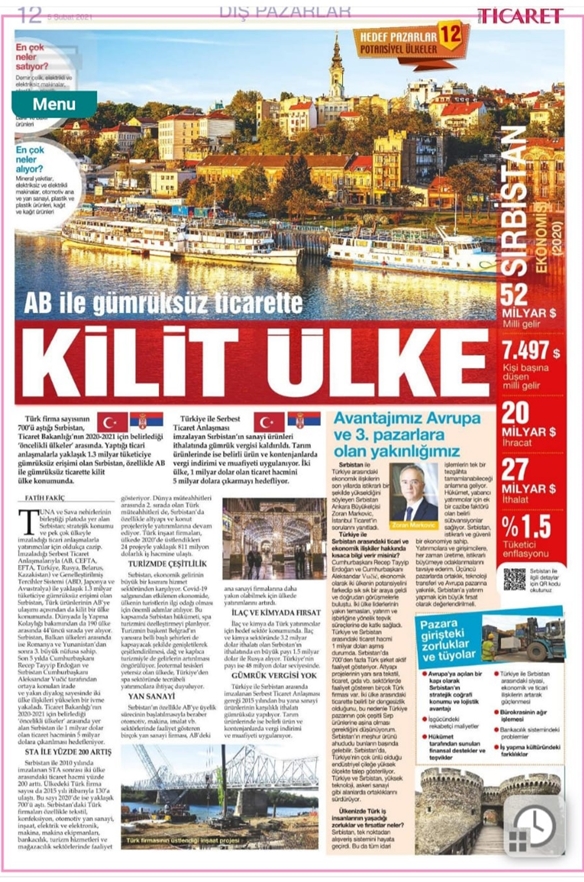 Serbia as a key country for duty-free trade with the EU
Ministry of Trade R. Turkey especially singles out cooperation with Serbia, as one of the "priority countries", in 2020-2021. bearing in mind that there are currently more than 700 Turkish companies established in Serbia, and that through various trade agreements, especially with the EU, Serbia has become a key country for duty-free trade. After the signing of the Free Trade Agreement between Serbia and Turkey, the customs duty on the import of industrial products was abolished. When it comes to agricultural and similar products, certain tax reliefs have been established, while all customs duties have been abolished on others. Trade has long exceeded one billion dollars, and the new goal is an exchange of 5 billion dollars.
Serbia, as a country lying at the confluence of the Sava and Danube, with an excellent geographical position and signed trade agreements with many countries, has become very attractive to various investors. With signed trade agreements (with the EU, CEPTA, Turkey, Russia, Belarus, Kazakhstan) and joining the preferential system (USA, Japan and Australia), Serbia is a key country in terms of access of Turkish products to the European market with its duty-free approach for almost 1.3 billions of consumers. In terms of ease of doing business from 190 countries, Serbia is on the 44th place. Serbia is the third largest country in the Balkans, after Romania and Greece. Thanks to the cooperation and close dialogue between the two presidents, Recep Tayyip Erdogan and Aleksandar Vučić, in the last five years, the relations between the two countries have really gained momentum. In the plan for 2020-2021, the Ministry of Trade of the Republic of Turkey singled out Serbia as a "priority country" with which the volume of trade exceeded one billion dollars, and the goal was set at 5 billion dollars.
FTA EXCEEDED 200%
After the signing of the Free Trade Agreement in 2010, the exchange between the two countries exceeded the estimated 200 percent. Until 2015, there were 130 Turkish companies in Serbia. In 2020, this number increased to 700. Turkish companies in Serbia mainly operate in the field of textiles, automotive industry, electrical industry, machinery and machinery, banking, as well as in the tourism and retail sectors.
DIVERSITY OF TOURISM
Serbia's economic growth is well deserved by the services sector. As the KOVID 19 pandemic has hit the economy hard, Serbia is taking important steps to make the country the center of tourist attention again after the panmedia. In this field, the Serbian government pays special attention to the better development of tourism and spa services. In addition to the capital of tourism, Belgrade, it is planned to expand to other cities, as well as to provide a wider range of services, especially emphasizing mountain and spa tourism. As a country that is not so experienced when it comes to thermal waters, Turkish experts and investors in this field are desirable.
INDUSTRIAL PRODUCTS
With the beginning of the process for membership in the European Union, Serbia and many industrial companies have started large investments in the automotive and machine industry and production, in order to get closer to the main industrial companies in the EU with this investment.
PHARMACEUTICAL PRODUCTS AND CHEMISTRY
Pharmaceuticals and chemicals are also a target sector for Turkish investors. After Russia with $ 3.2 billion in exports in the pharmaceutical industry, Serbia has $ 1.5 billion in exports. Turkey's share is about $ 48m.
DUTY FREE APPROACH
Since the Free Trade Agreement between Serbia and Turkey was signed in 2015, the import of industrial products has been done duty-free. When it comes to agricultural products, tax relief is applied for certain products and quotas.
THE ADVANTAGE OF EUROPE AND SUCCESS TO BE CLOSE TO THE THIRD MARKET POSITION
In his answers for the Istanbul Chamber of Commerce, the Ambassador of the Republic of Serbia, Zoran Markovic, said that during the last few years, the relationship between Serbia and Turkey has been steadily rising. Can you briefly tell us about trade and economic relations between Turkey and Serbia?
Economic relations between Serbia and Turkey have been steadily rising in recent years. Our two presidents, President Erdogan and President Vučić, gave their initial contribution to that, who, in frequent and direct communication, try to encourage businessmen of our countries to cooperate as closely as possible, realizing that there is a huge potential for that. The trade exchange between our two countries used to exceed one billion US dollars. Turkish companies are present in Serbia in infrastructure projects, but there are also a large number of those who have decided to open their factories in Serbia in various branches, from textiles, through trade to food production. Currently, over 700 Turkish companies operate in Serbia. What we notice, as the Embassy, ​​is that there is a certain imbalance in trade between the two countries, so it is necessary for the Turkish market to get acquainted with a wide range of Serbian products, which I am sure there is interest from Turkish consumers. First of all, I mean Serbian raspberries, which are world famous and represent one of the brands of our agriculture. On the other hand, the Serbian market is interested in importing industrial strawberries, for which Turkey is very famous. There is remarkable potential for joint performance in third markets, high technology and the military industry.
What do you think are the difficulties that Turkish businessmen face in your country?
In Serbia, the one stop shop system has been developed and has come to life, which means that all administrative activities can be completed at one counter, which speeds up and facilitates the start of business in Serbia as much as possible. In addition, in certain branches of the economy, the Serbian government provides certain subsidies, which are an additional factor of attractiveness to foreign investors. Serbia is making every effort to be and remain a stable and secure economy. I recommend investors and entrepreneurs to always focus on production and stable growth. Partnership in third markets, technology transfer and proximity to the European market should be considered an excellent opportunity to invest in Serbia.
Source: Istanbul Chamber of Comerce, 05.02.2021